'012 Fancy': Embrace Luxury - Aqua Blue Holo Magnetic Gel Polish
"012 Fancy" is more than just a color; it's a feeling of luxury, a glimpse of a vacation paradise in a bottle. This aqua blue holo magnetic gel polish is designed to transport you to a world of opulence and indulgence.
🏝️ Vacation Dreams: "012 Fancy" captures the essence of vacation bliss. It's the shade you'd wear when you're ready to escape to a tropical paradise, a reminder of relaxation and the joy of exploration.
💎 Luxe Elegance: Immerse yourself in the sheer luxury of this aqua blue hue. Its holographic brilliance adds an opulent touch to your nail art, making every day feel like a special occasion.
🪄 Magnetic Magic: Experience the magnetic allure of "012 Fancy" as holographic enchantment dances across your nails with our magnetic wand. Each stroke is a journey into elegance.
🌴 Destination Nails: Whether you're lounging by the pool or exploring a new city, "012 Fancy" is the perfect companion for your vacation adventures.
🎁 The Gift of Escape: Share the gift of luxury and escapism with "012 Fancy." It's a thoughtful choice for those who appreciate the beauty of indulgence.
🌈 Explore the Collection: Immerse yourself in our 10th Anniversary Collection, where each shade is a testament to a decade of creativity, passion, and the pursuit of dreams.
Embrace luxury, make every day feel like a vacation, and let your nails take you to the world of "012 Fancy."
#EmbraceLuxury #MagneticGelPolish #AquaBlueHolo #NailArtEscapism #10thAnniversary
Application/ how to apply:

012 Fancy holo magnetic gel polish can be worn alone in 1-3 coats or apply one generous coat over a base colour of your choice.
Before you start: You need a UV/LED lamp to cure the gel polish. You can get the limited edition Holo Mini UV/LED Nail Lamp here.
Prep your nails and make sure they're clean and dry.

Apply a thin layer of 

2-in-1

 

peelable gel base coat or

 

Peel It Off!

 

quick dry peel off base coat 

(for easy removal).

Cure it with the Holo Mini UV/LED Nail Lamp for 1 minute (long press for 1 minute setting). 

Apply one coat of the magnetic gel polish (one nail at a time) and design the pattern using the

 

magnetic tool.

Cure the gel polish with the Holo Mini UV/LED Nail Lamp for 1 minute.

Finish off with 

Always On Top!

 

non-wipe glossy gel top coat or

 

Be On Top!

 

quick dry glossy top coat.
*Pictures shown here are 2 coats over bare nails with 3D effect. All swatches are sealed with the Always On Top! non-wipe glossy gel top coat.
Tips:
1. If you're using a regular nail polishes underneath or in between gels, make sure the regular polish is completely dry before applying the gel polish otherwise the gel layer may become crumbled after cured.
2. Do one nail at a time. 
3. Apply a slightly thicker coat than how you will usually apply for other nail polishes.
Product details:
Magnetic gel polish
High quality ingredients
Bright, shiny and sparkle finish
3D effects
Long lasting
Safe, certified cruelty-free and vegan
Volume: 12ml (0.4 fl. oz.) 
Get this magic magnetic gel polish and create a bold, beautiful look that turns heads with every smile by clicking 'Add to Cart' above to get yours.
All our nail polishes are 13-free. It does not contain harmful ingredients such as Dibutyl Phthalate (DBP), Toluene, Formaldehyde, Formaldehyde Resin and Camphor. 
Worldwide Shipping from Singapore
Free Domestic Shipping (Singapore)
Purchases with 4 polishes and above, shipping within Singapore.
Upgrade & Discounted Express Shipping (USA, UK, Germany & Australia)
4-14 polishes: $19.99
15-22 polishes: $22.99
23-30 polishes: $26.99
31-36 polishes: $31.99
37 polishes and above: $36.99
Upgrade & Discounted Express Shipping (all other countries
)
Enjoy an

upgrade to express shipping

with lower shipping fee! 
- 6 polishes and more
(Rest of the world)
- 8 polishes and more
(Canada)
- 13 polishes and more 
(Europe)
*Free upgrade is applicable to all countries 

except Singapore, Romania, Spain, Mexico, India, China, Italy, Puerto Rico, countries in zone 9, 10 and P.O. Box. 
How to check if your order is eligible for free upgrade?
1. Make sure the order meet the minimum requirement.
2. Check the country zone in the table below.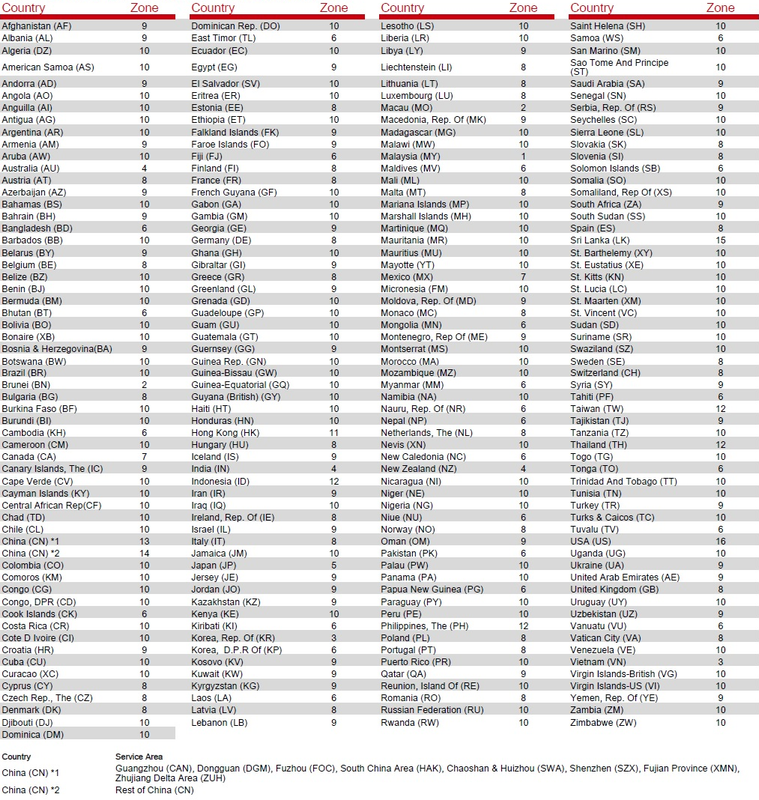 Shipping Method
Singapore
SingPost - Smartpac: Tracking available, deliver directly to letterbox.
USA, Canada, Australia, Germany, Poland, Netherlands, Sweden, Japan, Malaysia, Russia, New Zealand, United Kingdom NEW
SingPost - ePacket (EPAC): Starting from 2018, tracking status for Registered Article deliver to these countries will not be reflected in the track and trace system on both country destination and SingPost. EPAC is a new service that offers full tracking and the package is delivered to letterbox/doorstep without signatory requirement. 
Rest of the world
SingPost - Registered Airmail: Tracking status available. The scan events may differ from post to post. Registered Article is a Sign-For service that requires a signature on delivery in most destinations. 
Note: If you wish to receive your package without signatory, please contact us at info@funlacquer.com. Order will be sent via Standard Airmail which do not offer tracking and will be delivered directly to your mailbox. Please note that there will be no compensation for packages sent with Standard Airmail.
Order Processing Time
All orders will be shipped within 1-5 business days, Monday through Friday excluding Saturday, Sunday and Singapore Public Holidays.
*Processing time will be longer during holiday peak season/ sales period/ release of new collection.

Change of Address
Once order is placed, no amendment can be made. However, if your order hasn't shipped yet, we will try our best to change the details for you. Please email the correct shipping address and your order number to info@funlacquer.com. If your order has been dispatched:
Express shipping:
Please change the address via DHL On Demand Delivery service here. 
All other method:
No amendment can be made. We are unable to refund or resend your order if the package is delivered to the wrong address.

Delivery Time
Singapore: 1-3 business days from the date of posting.
International: 7-20 business days from the date of posting. Not including time spent at customs/border inspection facilities.
Express Shipping: 2-5 business days from the date of posting. Not include time spent at customs/border inspection facilities. 
*Please note that this time frame is an estimate and not a guarantee. Longer delays are typically due to the receiving country's customs and import processes.
Tracking Information
1. A shipping notification with tracking number will be sent to your email. Kindly check the spam/junk folder if it's not in the inbox. Please allow 24-48 Hours for the tracking number to update. 
2. Tracking service for registered airmail is available here (e.g. RR123456789SG).
3. Please note that the status "Arrived at Destination" means that package has arrived at the destination country, package will be handover to your local post office for further delivery. Further tracking is available at the local postal website (e.g. USA will be USPS; Australia will be Australia Post; UK will be Royal Mail; Italy will be Poste Italiane e.t.c).
Lost of Package
An enquiry will be raised to SingPost if the addressee confirms non-receipt of the Registered Article after
18 working days
 from the date of posting. Under the international postal agreement, the Destination Post may take up to 60 days to reply.
Note: All enquiries must be raised within 60 days from the date of posting. Orders that exceeded the claim period will not be compensated.
Once the claim is approved, a refund will be issued with a private coupon code for the amount you are owed that you can then apply to any future purchases made in our store.
- Store credit coupons can be given to another person if you do not wish to use them yourself.
- Store credit coupons do not expire.
- Store credit coupons can be applied to anything in our store.
Shipping Policy
1. We shall not be liable for confiscated or destroyed mails during delivery.
2. We shall not be liable for any non-receipt of packages if the tracking status is shown as "Delivered".
3. If item is broken in transit or incorrect item is received, kindly email to info@funlacquer.com with a picture. A replacement will be sent once the picture has been received. We regret that no replacement will be made if no supporting proofs are provided. 
4. If package is returned to us due to unclaimed or incorrect/incomplete address, a refund in store credit will be issued after deducting the value of the shipping.
Import Duties, Custom Fees, Local Sales Taxes
Please be aware that all international orders, regardless of shipping method, may subject to additional duties, taxes, and customs clearance fees. Duties, taxes, and fees are not included in the prices listed on our website. Buyers are responsible for all import duties, customs and local sales taxes charged by the destination country.
For any further information, please feel free to contact us at info@funlacquer.com.
We are proud to be PETA certified company. More info please refer to the link 
here
. All our products are 100% cruelty-free and vegan.