NEW
Red Solar Energy Beckoning Fortune Cat
The maneki-neko (招き猫, lit. 'beckoning cat') is a common Japanese figurine which is often believed to bring good luck, wealth and abundance of money to the owner. The figurines are often displayed in cars, shops, restaurants, casinos, hotels, other businesses and home.

This cute fortune cat symbolizes an easy and smooth life with its' carefree lying down position. Their adorable appearance brings about a sense of calm and peace to its' surroundings. Left hand symbolizes welcoming of wealth. The hand waving function helps to bring positive energy to its' surroundings.

At home, it is recommended to place this at the wealth spot to attract wealth and good fortune. Alternatively, you can place at the vestibule area where you can visualise when first entered the house.

For shops, there are few suggested spots for placement:
a) Cashier area to attract wealth
b) Feng Shui designated wealth spot of the shop
c) For attracting customer, can place in a prominent spot facing the main door

Product details:

- Sparkles finish with highest quality rhinestones crystal.
- Using solar energy. No battery required.
- Free standing or tabletop, shelf, cabinet or car dashboard.
- Perfect for decoration, art collection, gift, business, etc.
- Dimensions Width × Depth × Height (approx. cm): 11 x 7 x 8
- Weight (approx): 65g

-----------------------------------------------------------------------------------

Note:
All items are handmade and unique with slight imperfections.
Worldwide Shipping from Singapore
Free Domestic Shipping (Singapore)
Purchases with 4 polishes and above, shipping within Singapore.
Upgrade & Discounted Express Shipping (USA, UK, Germany & Australia)
4-14 polishes: $19.99
15-22 polishes: $22.99
23-30 polishes: $26.99
31-36 polishes: $31.99
37 polishes and above: $36.99
Upgrade & Discounted Express Shipping (all other countries
)
Enjoy an

upgrade to express shipping

with lower shipping fee! 
- 6 polishes and more
(Rest of the world)
- 8 polishes and more
(Canada)
- 13 polishes and more 
(Europe)
*Free upgrade is applicable to all countries 

except Singapore, Romania, Spain, Mexico, India, China, Italy, Puerto Rico, countries in zone 9, 10 and P.O. Box. 
How to check if your order is eligible for free upgrade?
1. Make sure the order meet the minimum requirement.
2. Check the country zone in the table below.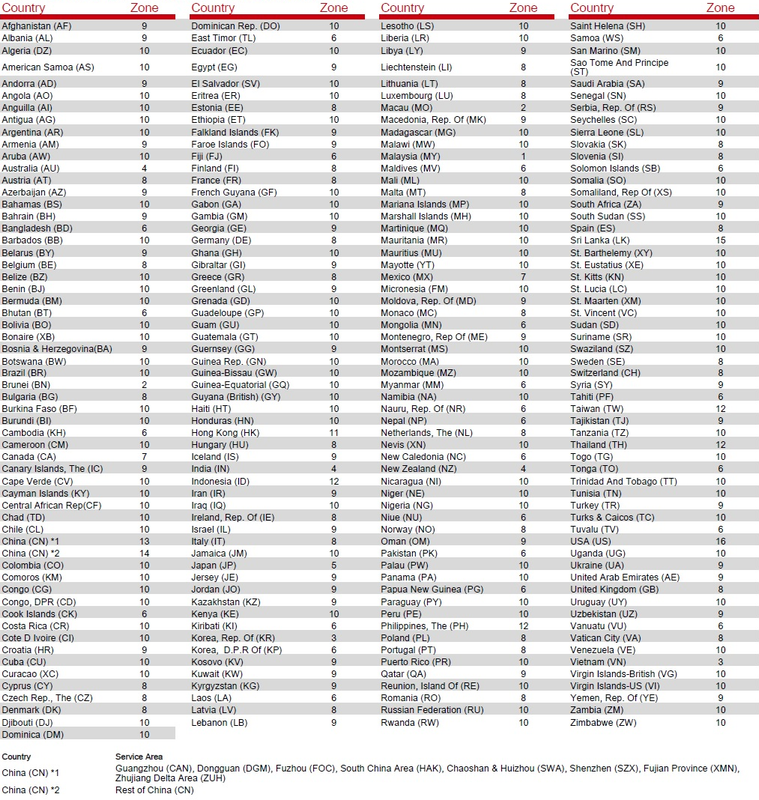 Shipping Method
Singapore
SingPost - Smartpac: Tracking available, deliver directly to letterbox.
USA, Canada, Australia, Germany, Poland, Netherlands, Sweden, Japan, Malaysia, Russia, New Zealand, United Kingdom NEW
SingPost - ePacket (EPAC): Starting from 2018, tracking status for Registered Article deliver to these countries will not be reflected in the track and trace system on both country destination and SingPost. EPAC is a new service that offers full tracking and the package is delivered to letterbox/doorstep without signatory requirement. 
Rest of the world
SingPost - Registered Airmail: Tracking status available. The scan events may differ from post to post. Registered Article is a Sign-For service that requires a signature on delivery in most destinations. 
Note: If you wish to receive your package without signatory, please contact us at info@funlacquer.com. Order will be sent via Standard Airmail which do not offer tracking and will be delivered directly to your mailbox. Please note that there will be no compensation for packages sent with Standard Airmail.
Order Processing Time
All orders will be shipped within 1-5 business days, Monday through Friday excluding Saturday, Sunday and Singapore Public Holidays.
*Processing time will be longer during holiday peak season/ sales period/ release of new collection.

Change of Address
Once order is placed, no amendment can be made. However, if your order hasn't shipped yet, we will try our best to change the details for you. Please email the correct shipping address and your order number to info@funlacquer.com. If your order has been dispatched:
Express shipping:
Please change the address via DHL On Demand Delivery service here. 
All other method:
No amendment can be made. We are unable to refund or resend your order if the package is delivered to the wrong address.

Delivery Time
Singapore: 1-3 business days from the date of posting.
International: 7-20 business days from the date of posting. Not including time spent at customs/border inspection facilities.
Express Shipping: 2-5 business days from the date of posting. Not include time spent at customs/border inspection facilities. 
*Please note that this time frame is an estimate and not a guarantee. Longer delays are typically due to the receiving country's customs and import processes.
Tracking Information
1. A shipping notification with tracking number will be sent to your email. Kindly check the spam/junk folder if it's not in the inbox. Please allow 24-48 Hours for the tracking number to update. 
2. Tracking service for registered airmail is available here (e.g. RR123456789SG).
3. Please note that the status "Arrived at Destination" means that package has arrived at the destination country, package will be handover to your local post office for further delivery. Further tracking is available at the local postal website (e.g. USA will be USPS; Australia will be Australia Post; UK will be Royal Mail; Italy will be Poste Italiane e.t.c).
Lost of Package
An enquiry will be raised to SingPost if the addressee confirms non-receipt of the Registered Article after
18 working days
 from the date of posting. Under the international postal agreement, the Destination Post may take up to 60 days to reply.
Note: All enquiries must be raised within 60 days from the date of posting. Orders that exceeded the claim period will not be compensated.
Once the claim is approved, a refund will be issued with a private coupon code for the amount you are owed that you can then apply to any future purchases made in our store.
- Store credit coupons can be given to another person if you do not wish to use them yourself.
- Store credit coupons do not expire.
- Store credit coupons can be applied to anything in our store.
Shipping Policy
1. We shall not be liable for confiscated or destroyed mails during delivery.
2. We shall not be liable for any non-receipt of packages if the tracking status is shown as "Delivered".
3. If item is broken in transit or incorrect item is received, kindly email to info@funlacquer.com with a picture. A replacement will be sent once the picture has been received. We regret that no replacement will be made if no supporting proofs are provided. 
4. If package is returned to us due to unclaimed or incorrect/incomplete address, a refund in store credit will be issued after deducting the value of the shipping.
Import Duties, Custom Fees, Local Sales Taxes
Please be aware that all international orders, regardless of shipping method, may subject to additional duties, taxes, and customs clearance fees. Duties, taxes, and fees are not included in the prices listed on our website. Buyers are responsible for all import duties, customs and local sales taxes charged by the destination country.
For any further information, please feel free to contact us at info@funlacquer.com.
We are proud to be PETA certified company. More info please refer to the link 
here
. All our products are 100% cruelty-free and vegan.